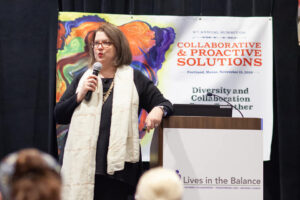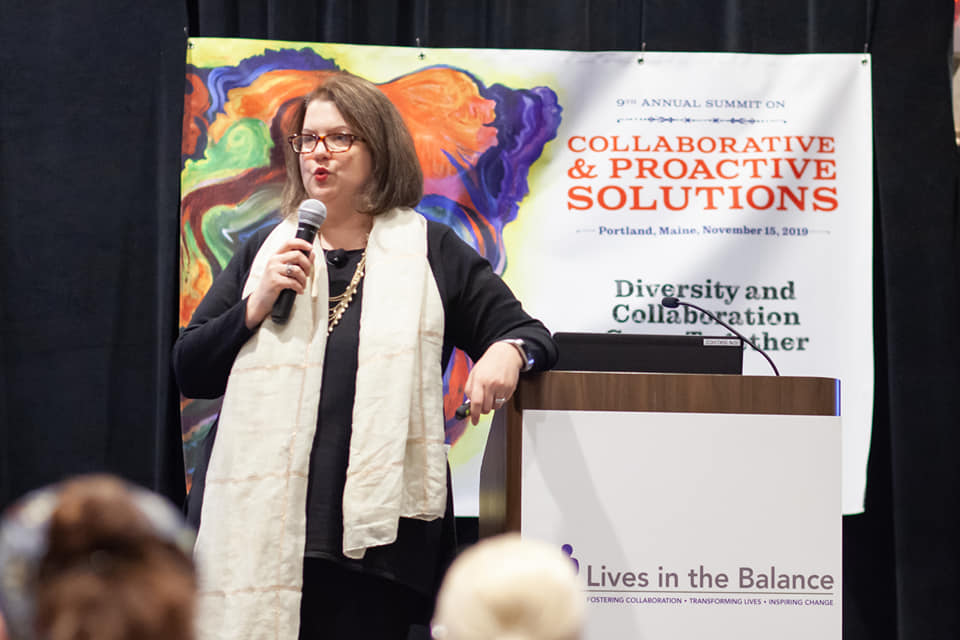 Charity Bell has been recognized as an "Everyday Hero" by Brian Williams of NBC and featured in Good Housekeeping Magazine for her work with more than 150 foster children in Massachusetts and now New Hampshire. After her mothers' early death by suicide, Charity applied to the Peace Corps, and spent 18 months in a remote West African village as the only English speaker within 15 miles. She worked primarily with women and infants and delivered more than 30 babies as a lay midwife. She returned and spent time as the Founding Director of an arts/youth development foundation, as Director of Training for a large child welfare organization, and she also began her life as a foster parent.
She has worked mainly with substance exposed newborns, going so far as to take them with her as she pursued a graduate degree at Harvard's Kennedy School of Government.  After working as Director of Training for Boys & Girls Clubs of Boston, She is now a regional Director of Learning and Development for the Department of Mental Health.
____________________________________________________________________
Charity grew up in a single parent home with a mother who loved her absolutely - and also struggled with alcoholism and mental illness for Charity's entire childhood.  After challenges including several months living alone at the age of 14 while her mother was hospitalized, frequent visits from police, and extended periods of caring for herself and her mother, Charity found an incredible mentor family who provided her with hope and saw her potential in a way the Charity herself could not.
She received a full scholarship to New England Conservatory of Music, and spent four years studying classical voice and working to support herself.
Her mother died suddenly just after Charity graduated and Charity began becoming more interested in and committed to public service.
She applied to the Peace Corps while also volunteering in local shelters and working. She was accepted and sent to Guinea, West Africa where she concentrated on improving the health of women and children, particularly around HIV, nutrition, and prenatal/postpartum care. She delivered more than 30 babies in partnership with local "Sage Femmes", female village wise women, with whom she spent most of her time.
When she returned, she began working as Founding Director of  foundation the supported at risk youth in the arts, including the development of an arts space in downtown Boston and granting more than 250K to local arts groups. She partnered with community members and leaders to understand the needs of some of Boston's most vulnerable youth and supported the foundation's funder/thought leaders in developing impactful and thoughtful spending priorities.
She also began fostering in earnest, caring for more than 150 children to date, mostly infants, and committing to engaging meaningfully with the child welfare system to improve the lives of these children and the families who care for them.
She attended graduate school at Harvard University, bringing with her more than 15 different babies. These infants served as small and (mostly) silent professors, reminding the incredible student body of the truest responsibility of government: protection of the most vulnerable.
After graduation, Charity made some decisions around her own emotional and mental health that led to researching and creating a personal framework for reducing/eliminating anxiety and distress.
Over the course of two years, she developed a process that she used for herself and others with dramatic results. The framework relies on brain plasticity, external triggers for change, and "relentless positivity" to retrain the brain and reset one's general level of pleasure in life even in times of struggle.
She draws from the work of Kristin Neff, Jaimal Yogis, Dan Siegel, and Rick Hansen among others.
She has spent the past 15 years researching and implementing mindfulness and positivity in environments ranging from after-school programs to schools to government agencies.
She is an engaging and inspiring speaker, bringing laughter to the important messages that audience members have called "transforming" and "utterly on-point".